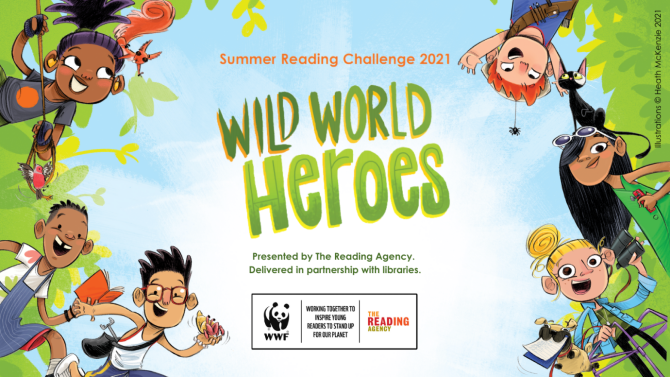 A famous face will help launch this year's Summer Reading Challenge in Slough's libraries.
Author and presenter Konnie Huq will be part of a 'Save the Planet Party' at The Curve on Saturday 3 July, to launch this year's challenge.
The theme this year is Wild World Heroes, celebrating nature, wildlife and taking care of the environment in partnership with World Wildlife Fund (WWF)
Slough libraries are calling for children aged 4-11 to sign up to borrow and read any six library books over the summer as part of the Summer Reading Challenge.
Children will explore Wilderville, an exciting town which is suffering from some serious environmental problems. With the help of the Wild World Heroes, there's plenty of ways to make the town better for the people and animals that live there.
Young readers will help Wilderville fix their environmental problems while having lots of fun and exploring nature along the way as they progress through the Summer Reading Challenge.
Participating children will receive lots of fantastic prizes such as a bookmark, Frisbee, colouring pencils, joke book, and lots of stickers, including some special smelly stickers. Children who complete all six books will also receive their very own medal and certificate to celebrate their achievements.
Councillor Christine Hulme, lead member for children's services, lifelong learning and skills, said: "Reading opens up a whole world of imagination and exploration. This challenge is a wonderful opportunity for children to read different styles of books and complete activities along the way.
"The whole family can get involved and enjoy some quiet reading time together and hopefully fuel a lifelong love of reading. Our libraries staff look forward to welcoming eager readers into our libraries this summer and beyond."
To take part in Wild World Heroes, all children need to do is sign up at their local library in Britwell, Cippenham, Langley or The Curve, where they will be given a collector folder to keep a record of their Summer Reading Challenge journey.
Non-members can sign up for a library membership at the same time to get access to a fantastic collection of books in our physical and digital libraries.
The challenge, created by The Reading Agency, will be running throughout the summer until Saturday 17 September.
There's a whole programme of events and activities planned at Slough libraries for families over the summer to celebrate the Summer Reading Challenge.
Starting with the 'Save the Planet Party' with Konnie Huq, there will be a reading from her "Cookie" series, live draw-along, brain-busting quiz and lots of eco-friendly top tips.
This will be followed by online author events with our Summer Reading Challenge Ambassadors Saleha Latif, Fiona Barker and Tina Stubbs, for a fun mixture of reading, writing and activities celebrating nature and our beautiful planet.
There will also be a Wild World Heroes Club, Gardening Club, Reading Crew and craft sessions alongside our regular programme of events, themed around nature and the environment.
Pick up the special Summer Reading Challenge leaflet, contact your local library or go to the council's website to find out how to take part.