These prices are for both Slough residents and non residents.
Price information 1 April 2022 - 31 March 2023
Cremation Service – 30 minutes chapel time
Monday to Friday 9am to 3.30pm

Adult, 17 years upwards: £870.

Direct Cremation (unattended service)
Monday to Friday 8am to 8.45am

Adult, 17 years upwards: £420.

Cremation Service - 60 minutes chapel time
Monday to Friday 9am to 3.30pm.

Adult, 17 years upwards: £1,120.

Additional chapel time – 30 minutes: £255.
Saturday Cremation Services
9am to 11.30pm

Adult, 17 years upwards (30 minutes chapel time): £1,350.
Adult, 17 years upwards (60 minutes chapel time): £1,605.

Cremation Service - 30 minutes chapel time

Foetus, stillborn infant or a child under 17 years: No charge.

Bearer: £35.
Drop off coffin prior to service - on same day: £70.
Late arrival/departure fee: £255.
Saturday scattering of cremated remains
(cremated at Slough Crematorium): £70.
Scattering of cremated remains
from other crematoria including Saturdays: £90.
Max Coffin Size for Cremation - 86" Length by 38" Width.
Additional information
All chapel service times includes entrance to and exit from the chapel.
All cremation fees include any environmental levy. The cremation fee includes chapel use and music played from the Obitus system, medical referee's fee, witnessed/unwitnessed scattering of cremated remains (weekdays) in the garden of remembrance, or supplied in an environmentally friendly cardboard cremation box.
An organ is available for use in the chapel – organist fees are not included in the cremation fee and should be arranged via your Funeral Director.
Audio visual webcasting services fees
All audio visual services should be ordered via your Funeral Director from Obitus.
Live webcast viewed via a secure easy-to-use website: £40.
Live + 28 day + downloadable.
The live webcast, plus access to a recording of the webcast to watch again for a further 28 days: £55.
Keepsake copy (DVD/Blu-ray/USB stick)
A recording of the webcast on a DVD, Blu-ray, USB memory stick or audio CD and sent in a presentation case: £55.
Additional keepsake copies
For each additional copy of DVD, Blu-ray or USB stick of anything already ordered (available up to 4 weeks after service): £25.
Visual tributes (available from 19 April 2022)
Single photo (first): Free.
Second and each subsequent photo: £13.
Slide show (up to 25 photos): £43.
Pro tribute
Pro tributes typically include up to 25 photos and a personalised title, all presented in a video. Each transition is created manually, and timed to coordinate with the chosen music – starting and finishing at exactly the right moment.: £77.
Family made
Any kind of pre-made film, including home videos, and editors double-check all videos for quality. Any music played at the same time will need to be embedded in the video: £23.
Keepsake of tribute (DVD/Blu-ray/USB stick): £30.
Download of tribute: £13.
Extra 25 photos: £26.
Additional support
Extra personalisations to make a service extra special. This covers any revisions, or major departures from a standard product, including: Changes if a tribute is already made OR it's after 2pm on the last working day before the service (whichever is sooner): £26.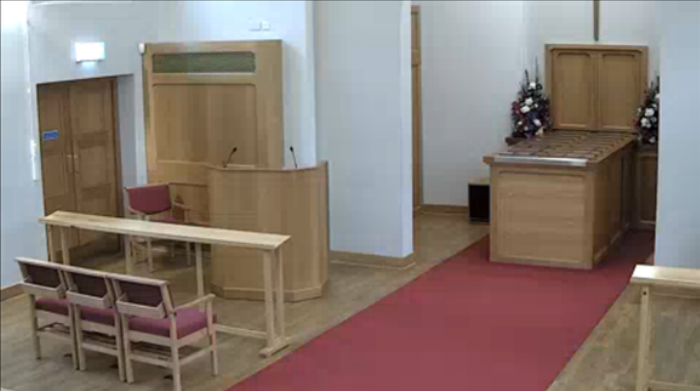 Please be aware:
The view is from a fixed point camera as displayed above.
This is a public building and the timing of the live webcast is semi-automated to allow for services running early or late – please use your discretion if you can see activities not applicable to the service you are there to watch (for example the beginning or end of another service or surfaces being wiped down between services).
The webcasting system is a basic single-camera at the back of the chapel and reliant on a lot of things outside of our control (e.g. a user's internet speed). Unfortunately, we cannot accept liability if this service is unavailable.