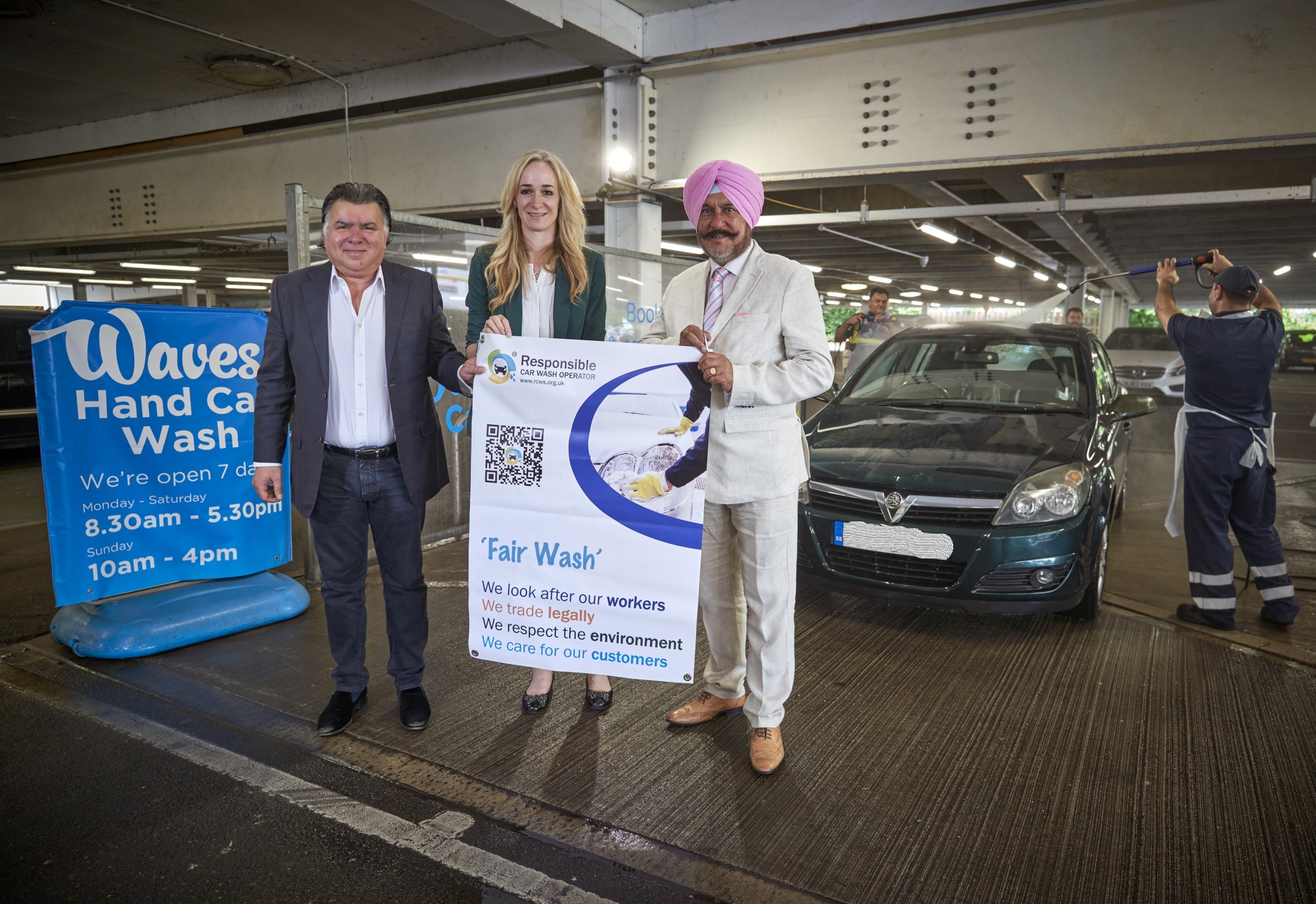 Two hand car washes in Slough have become the first in the country to be accredited in a new government initiative - the Responsible Car Wash Scheme.
Waves Car Wash and Pro Touch Valeting applied for accreditation following a visit in May as part of a Home Office funded pilot to test licensing for all hand car washes.
Both sites, in Wellington Street, will now display the scheme's sticker and banner assuring customers they are using a business which has met strict criteria.
Businesses have been assessed to make sure its employees receive a fair wage, have the correct planning permissions and insurances, and pay business rates and take environmental precautions.
Customers wanting their car cleaned and valeted are being urged to use accredited premises, to have a clear conscience when handing over cash as workers at hand car washes are at risk of exploitation with low wages as well as poor and unhygienic working conditions.
Some operate from unsuitable locations which could lead to pollution with discharge ending up in water courses.
Twenty hand car washes in the borough were initially visited by staff from the scheme, the council's trading standards and planning officers and Thames Valley Police in May. Those who applied to be accredited were revisited and officially assessed.
Waves Car Wash in the car park of Tesco, Wellington Street, was given the coveted number one accreditation sticker.
Akbar Mirza, the director and a franchisee of nationwide company, said: "This scheme is the right thing to be involved in for our workers and our customers."
Joanna Graham, the CEO of the Waves Group, said: "We fully support the scheme and were very keen to gain accreditation as soon as possible.
"We are very excited to have the first accredited premises and look forward to it being rolled out nationwide.
"We hope this scheme encourages other car washes in the area to ensure they comply with the law and helps customers to make an informed choice about where they get their car cleaned."
Pro Touch Valeting is a purpose-built site where customers sit in their cars and pass along the sections getting their cars cleaned inside and out.
Manager Deler Jamal said the site had ensured it had the relevant permissions from the council and had a safe site for customers and staff where a lot of the mechanics of the operation was under the floor.
He said: "It shows you can abide by all the rules and have a successful and busy car wash, and we hope more people will be now encouraged to come and use us."
Councillor Balvinder Bains, lead member for regulation and public protection, said: "Slough is the first in the country to have accredited premises which is good and this is set to grow across the country.
"Those getting a car wash can now think about where they want to use and take this into consideration.
"Slough is leading the way in protecting those who are sometimes in the most vulnerable positions and can be in roles which are exploitative, not a safe workplace and one which can do harm to the environment.
"Car washes can now strive to achieve the accreditation and be a beacon of good practice in Slough for the rest of the country."
The council and scheme partnership is offering an initial period of membership for free to encourage those who obey the rules to get on board. In future the cost to the business will be £250.
Teresa Sayers, managing director of the Responsible Car Wash Scheme, said: "These accreditations are a landmark in our goal to see car washes across the UK offer a fair wash for all – fair to their workers, their customers and to the environment.
"Both of these car washes have proven to be adhering to the code of practice in full and meeting their employment, environmental and premises obligations. Businesses in Slough have been very receptive to the scheme and we have other applications coming through, so I am sure these will be the first of many accreditations."
The hand car wash sector has consistently been identified as an industry where workers are at risk of exploitation ranging from poor working conditions to modern day slavery. Legitimate businesses are often undercut by those breaking the law, creating an unfair competitive landscape.
The Responsible Car Wash Scheme is an initiative by the Home Office in conjunction with the Gangmasters and Labour Abuse Authority. Businesses complying with labour, environmental and planning laws will be able to display accreditation indicating they are a trusted provider.
The Responsible Car Wash Scheme accreditation requires the operator to meet and abide by the Code of Practice in full. It is
consent to trade and trading standards
financial transparency and corporate governance
providing safe and hygienic working conditions
protecting the environment
compliant and ethical employment practices and prevention of worker exploitation.
More information about the scheme is available at – https://rcws.org.uk/