Winter Reading Challenge : 1 December - 15 January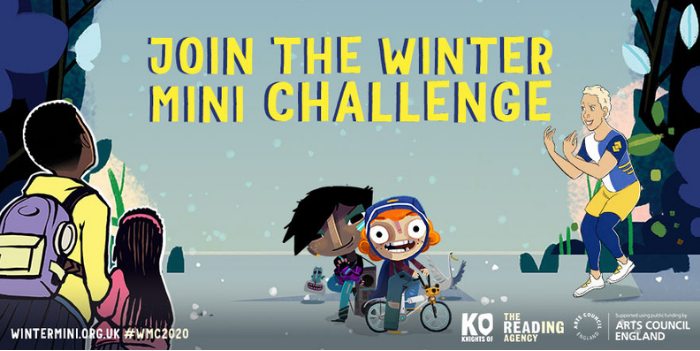 Be a Reading Hero! Cosy up with a book in this chilly weather and join the Winter Reading Challenge.
This the year, the theme is Everyone is a Hero and children can be a reading hero by reading and reviewing books and completing the challenge. You can read as many as you like, but we recommend you aim to read at least 3 books.
Take part digitally by signing up online at www.wintermini.org.uk As you read more books, you will unlock virtual rewards, including a certificate when you finish. The website will also feature activities, recommendations for great winter reads, and competitions. You can borrow ebooks and audiobooks to enjoy as part of the challenge.
If you prefer, you can use our click and collect service to order a Winter Challenge pack from your local Slough library. It will have everything you need to take part – library books, a reading record and a fun activity sheet. Parents and carers can email clickandcollect@slough.gov.uk , phone their local library or order through their library account. Children will need to be library members to borrow the books in the pack. More details about Click and Collect available on our Libraries COVID 19 updates page.
Certificates will be available from the library for all the reading heroes who complete the challenge.
What is the Summer Reading Challenge?
Every year Slough Libraries joins with many libraries across the country and The Reading Agency to encourage children to read more books throughout the summer holidays. Studies have proven that it is really important for children to keep reading throughout the holidays and children who don't experience a dip in their reading levels in the autumn term.
The summer reading challenge is a chance to read for fun and try something new and challenging. Each year there is a theme, and this year's summer reading challenge was Silly Squad, is a celebration of fun, happiness and laughter with a focus on funny books. There are often little incentives like stickers to collect and children completing the challenge are given a certificate and medal.
Ask in your local library in July to find out more or check out the Reading Agency's Summer Reading Challenge site - lots of interesting info all year round.